Academics and students go head to head in 'The 3rd Degree'
06 May 2015
Manchester students take on academics in this light-hearted BBC Radio 4 quiz on Saturday, 9 May at 11pm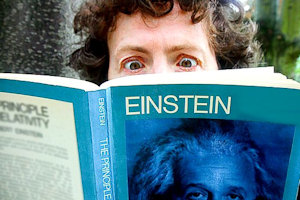 Back in February, three of our academics pitted their wits against three undergraduate students during a recording of quiz show 'The 3rd Degree'. Now it's time to find out how the contestants fared when the programme airs this weekend.
Competing in front of an audience of staff and students in the Martin Harris Centre are:
Professor of Cardiovascular Medicine Bernard Keavney against student Sam Hey;
Professor Matthew Cobb from FLS against student Polly Martin;
Lecturer in American Studies Dr Natalie Zacek against student James Broadway.
Hosted by comic Steve Punt, 'The 3rd Degree' combines the rigour of a formal quiz with a light-hearted quest to discover how the students will fare against their elders and betters. The rounds vary between specialist knowledge and general knowledge, with quick-fire bell-and-buzzer rounds and individual questions also.
So tune in for an intellectually fulfilling and informative quiz, and enjoy the fruits of everyone's mental labour.