Jodrell Bank to be headquarters for the world's biggest telescope
30 Apr 2015
The headquarters of the world's biggest telescope will be at Jodrell Bank, it has been announced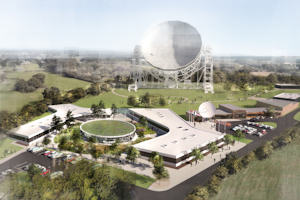 The Cheshire facility currently houses the headquarters of the multinational Square Kilometre Array (SKA) project for its pre-construction phase. These premises will now be expanded to support the growing project. Construction of the telescope, located in South Africa and Australia, will begin in 2018 and the SKA is planned to be operational for at least 50 years.
The University of Manchester's Jodrell Bank site will host the SKA headquarters backed by the UK government through the Science and Technology Facilities Council, The University of Manchester and Cheshire East Council.
By locating the SKA HQ at Jodrell Bank, the SKA Organisation benefits from a partnership with the science and engineering activities of the Jodrell Bank Centre for Astrophysics, the outreach activities of the Jodrell Bank Discovery Centre, the facilities of The University of Manchester, and the research strength and international networks of the UK consortium of Manchester, Cambridge and Oxford Universities. Together with the Science and Technology Facilities Council, these universities have worked on SKA development over many years. Alongside the many other institutes worldwide working on SKA, they will help provide a superb research environment and an extremely strong team to support the SKA Organisation over the coming years.
The UK will design and construct a unique campus for one of the most inspirational science projects of the 21st century, set against the backdrop of the world famous Lovell Telescope, one of the 20th century's great science and engineering projects and still a world-class radio astronomy instrument. The headquarters will be constructed to meet the needs of the SKA project and there is space to grow if the project requires it in future.
"Locating the headquarters of the Square Kilometre Array, the world's largest radio telescope, at Jodrell Bank builds on the University's long legacy of world leading radio astronomy as well as the UK's leading activities in data intensive science," said Professor Colin Bailey, Deputy President and Deputy Vice-Chancellor. "More than 50 SKA staff are already at Jodrell Bank in a purpose-built building and we will now further develop the University's site to meet the needs of this transformational project."
The process for selecting the permanent headquarters began in 2014 when, following an agreed plan, SKA Members were invited to submit bids. Two bids were received, from Italy and the United Kingdom, both of which were judged to be excellent and both suitable for the project's needs. After thorough consideration, the Members of the SKA Organisation expressed their preference for the United Kingdom's Jodrell Bank site as the future home for the SKA headquarters, thanks to the strong package offered by the UK government.
Professor Stephen Watts, Head of the School of Physics and Astronomy, said: "This is great news for Jodrell Bank. Not only will it mean cutting edge science will continue to be carried out at the site for the foreseeable future but it will also help inspire the thousands of children who visit here every year from schools across the country. It is a great honour to be chosen as the headquarters of the largest telescope ever built."
Dr Keith Grainge, Jodrell Bank's Associate Director for SKA, also commented: "We are delighted that the SKA Organisation has chosen to site its permanent headquarters at Jodrell Bank. Everybody here is now looking forward to working with our SKA colleagues and international partners in building the telescopes and delivering some incredible science."