Humanities students provide winning answers to the £5 million question
30 Apr 2015
The four winners of a student essay competition focussing on philanthropy and charitable giving have been announced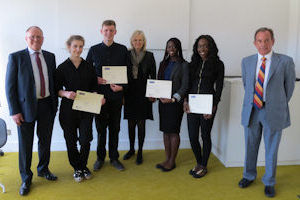 'Imagine that you have £5,000,000 to distribute to 'good causes' and charities in the UK and/or overseas. Which 'good causes' would you give to, and why? How would you ensure that the recipients were able to maximise your gift?'
That was the essay title for the 2015 Zochonis Charitable Trust (ZCT) student essay competition.
Earlier this year, the Manchester Enterprise Centre (MEC) were approached by the Trust with a proposal for an essay prize competition for students focused on philanthropy and charitable giving. In its launch year the competition was open to undergraduates from Schools in the Faculty of Humanities.
Lynn Sheppard, MEC Director said, "The aim was for this to be a 'thought-piece' around philanthropy, providing new perspectives but most importantly addressing how 'giving' can deliver impact and 'make a real difference'."
A shortlist of 10 essays was selected, and the final three were chosen by a panel including Professor Matthew Jeffries, Professor of German History and Assistant Associate Dean for Teaching, Learning and Students in the Faculty of Humanities and Dr Julian Skyrme, Director of Social Responsibility.
Nigel Green, trustee of the Zochonis Charitable Trust, announced the winners at an awards lunch to which all 10 finalists were invited. He said: "Having worked with a large number of charities over the past years, we read the top 10 essays with considerable interest and would like to congratulate sincerely all the entrants for their creativity of thought, use of sources and overall passion towards their individual charitable focuses.under 
"I would like to pay particular praise to the two runners up for the radical thinking shown and the winner for the detailed research. We congratulate the worthy winner – James Griffiths – it has been a pleasure to have been exposed to all your thinking and ideas."
James' essay opened with 'If I were given such a substantial sum to donate to good causes then the plight of those at risk from malaria would be my primary focus'. He then states:
'I would choose to donate to the Against Malaria Foundation (AMF) because of their efficiency and effectiveness in assisting prevention of malaria… I would donate some to PATH's Malaria Vaccine Initiative because of their meaningful strides in finding a vaccine. While the £5,000,000 would not be enough to fully eradicate malaria, it certainly would make a deep impact on the lives of millions of people and I see it as the responsibility of someone with such funding to make as big a difference as possible.'
Second prize was awarded to Ella Whitby, BSc (Hons) Geography student whose aim would be for the money to help abolish risks of long-term homelessness for singles between the ages of 21 and 45. Third prize was awarded to BSc (Hons) Information Technology Management for Business students, Mariah Sowa and Lauren Haynes-Ranger, who would use the entire amount on Manchester Street Angels (MSA). 
James, a BA (Hons) Politics, Philosophy and Economics student, was presented with  £750. Second prize was £500 and third prize was £250, with all 10 finalists being given a commemorative brochure, containing the three finalists' essays.
ZCT was set up by the late Sir John Zochonis, founder of PZ Cussons, and funds good causes in Manchester, the UK and overseas, with gifts totalling £2.5 million each year. ZCT are long-term supporters of the University, particularly in the areas of outreach and widening participation, where they currently support over 50 undergraduate Opportunity Manchester Scholarships for local students from low-income backgrounds.