Staff benefits update
29 Apr 2015
Bank Holiday savings and competitions for you all!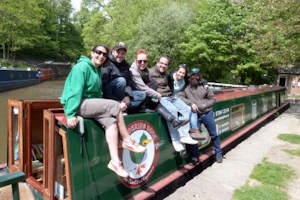 Ahead of the May Bank Holiday the Perkz May newsletter includes 15% savings at Superbreak on hotels and flights throughout Europe as well as concerts, events and shows in the West End and beyond.  The University provides you with free access to Perkz. If you haven't registered yet, obtain your unique code by emailing:
IHG
As University staff receive preferential staff rates with IHG® (Holiday Inn, Crowne Plaza, Holiday Inn Express) it's a great time to book a Spring weekend away.  Are you looking to soak up the vibrant and diverse atmosphere of London; explore the canals of Amsterdam; find where East best meets West in Istanbul or immerse yourself in the rich historical art capital of Madrid? Wherever you choose to go, it'll cost you less as you enjoy up to 30% off weekend breaks with IHG. Book your next break now at:
Wandering Duck
Wandering Duck is a unique, hosted, canal boat experience that won "Tourism Experience of the Year" at Manchester Tourism Awards 2014. Join other like-minded people, or charter their narrowboat with a group of friends and learn to steer the boat, work the locks and enjoy walks and pub stops. They are offering you 10% discount on all their Wandering Duck Canal Boat Experiences. To book, go to:
Superbreak
This Bank Holiday weekend will see the Tour de Yorkshire exposing some of Yorkshire's most iconic scenery. Whether you're customer is looking for a relaxed escape to the country, a seaside getaway or a busy and exciting city break, they have something to offer for everyone via:
Student Union Extra Card
University of Manchester staff are eligible to purchase an NUS Extra Card. The card entitles you to 12 months of fabulous savings from Easyjet  and major retailers such as Amazon, Co-operative Food Stores, Spotify, Accessorize and many more! An NUS Extra card lasts for 1 year (£12). To purchase just go to the Student Union reception in the Biko building with your Staff ID card to purchase.
Perkz competitions
Only a few more days before the April competitions close on Perkz. Don't miss your chance to win:
Haven holiday - A three-night weekend or four-night midweek self-catering break for up to six people.
For full details of these competitions please visit Perkz and select 'competitions' from the category menu. 
----------
Find out what's available for you at:
Enjoy your Bank Holiday break and next week is the launch of a reward card to use in Manchester!