Artist to "release" butterflies from artwork on election day
28 Apr 2015
Contemporary artist, Romuald Hazoumè will give away the butterflies from six of his compositions to encourage political engagement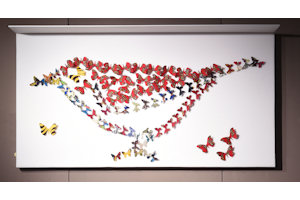 Dance of the Butterflies is a striking new artwork by one of Africa's foremost contemporary artists, Romuald Hazoumè. It features swarms of multicoloured 'butterflies' which have taken over Manchester Museum's Living Worlds Gallery, interacting with the Museum's natural history collections. The hundreds of butterflies are made from off-cuts of vibrant African wax-print fabrics from the artist's home country of Benin.
Dance of the Butterflies represents a very African take on politics, exploitation and the 'butterfly effect'- how tiny changes within chaotic systems can lead to unexpectedly serious effects. The butterflies are arranged into shapes such as sharks, wolves or birds of prey - common popular images of politicians. 
To remind us all of the power of voters to topple or install politicians through the power of democracy, Hazoumè has asked the Museum to give away the butterflies from six pieces in the exhibition on Election Day on 7 May. This is a fantastic and unique opportunity for visitors to own a piece of contemporary art from a leading West African artist.
We particularly want to encourage first time voters to participate, but anyone of voting age can be a butterfly activist. To participate voters simply come to the Museum on Thursday, 7 May between 11am and 4pm, pledge to vote before the end of the day and crucially commit to encouraging one other person, through the gift of a butterfly, to do "something" to engage with politics - whether that be voting, joining a campaign, debating or some other political act.
All the Museum and artist ask is that they let us know what they will do and post about their gift on social media using the hashtag #DanceoftheButterflies.
Nick Merriman, director of the Museum, said:
"Romuald Hazoumè's work is intensely engaged with the politics of the modern world. He sees each of us as 'butterfly activists' who can make or break politicians and it's wonderful that he is prepared to give away these pieces to remind us of our power."