Sweet success
24 Apr 2015
Cake sale raises £645 for stillbirth and neonatal death charity SANDS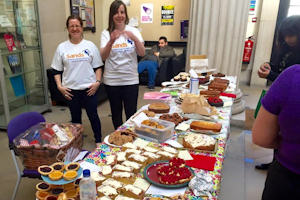 A cake sale, organised by Abigail Saffer, Kathryn Dutton and Victoria Turner for the stillbirth and neonatal death charity SANDS, raised a huge £645.
The UoM Foodies event saw more than 50 cakes donated and hundreds of staff and students stopping by for a sweet treat throughout the day.
Abigail said: "There were lots of positive comments and the cakes were described as 'professional' and 'delicious'.
"We were overwhelmed with the support and generosity of everyone who baked and bought cakes, and want to say thank you to everyone who was involved."
The group are also running a raffle for a large chocolate hamper. To buy a raffle ticket, see Abigail in room A21, Samuel Alexander Building before Friday, 1 May.
More information
For information about the charity, visit:
To talk about the work SANDS does, or if you need some advice, get in touch with Kathryn Dutton:
kathryn.dutton@manchester.ac.uk
If you are interested in organising a food-based event at the University, contact Abigail: