Chancellor nominees announced
23 Apr 2015
Staff, registered alumni and members of the General Assembly have nominated three candidates for election to be the next Chancellor of The University of Manchester.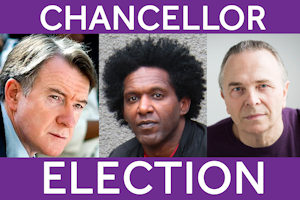 Award-winning writer and broadcaster Lemn Sissay, former Cabinet minister Lord [Peter] Mandelson and Hallé Music Director Sir Mark Elder have all been nominated and will now face a vote by the same electorate to become the University's next ceremonial figurehead.
The election of a new Chancellor comes following the end of the seven-year tenure of the current Chancellor, Tom Bloxham MBE, the founder of Manchester-based property development company Urban Splash.
University President and Vice-Chancellor, Professor Dame Nancy Rothwell, said: "The Chancellor of the University, while a ceremonial office, brings with it significant ambassadorial responsibilities in helping to promote the University's achievements regionally, nationally and internationally.
"The Chancellor presides over meetings of the University's General Assembly and undertakes other ceremonial duties on behalf of the University, something Tom has done with great enthusiasm in his time as Chancellor.
"I wish to take this opportunity to thank Tom for his dedication to the role over the past seven years. His support for the University has been invaluable and I look forward to working with his successor."
The election of a new Chancellor, by staff, registered alumni and members of the General Assembly, will open on 26 May and close on 18 June. The successful candidate will take office on 1 August and will hold the position for the next seven years.
Lemn Sissay MBE is an award-winning writer and broadcaster and associate artist at the Southbank Centre, patron of the Letterbox Club and fellow of the Foundling Museum. He is the author of a series of books of poetry, alongside articles, records, radio documentaries, public art, and plays.
He said: "The nomination for Chancellor is an inspiration to me. It is symbolic of my own journey of learning. I am the boy who walked barefoot to Manchester from a village in Lancashire. I came to learn and to grow and the learning and growing hasn't stopped. It has given me wings - as a writer and artist I travel the world amongst scientists and royalty, fighters and peacemakers, service workers and academics. I want to be Chancellor to inspire and be inspired."
Lord Mandelson was a Cabinet member in the last Labour government and First Secretary of State with responsibilities including higher education policy, science and innovation. Between 2004 and 2008, he was the European Union's Trade Commissioner.
He said: "It is an honour to be asked to stand for election as Chancellor of such a reputable institution. There are three good candidates, each with something to give. If I were elected Chancellor I would want to support the University's ethos of social justice and assist in its international development, attracting first rate academic staff and students. And I want to contribute to the City's advancement, making Manchester's overall education experience even better than it is now."
Sir Mark Elder CBE is Music Director of Manchester's Hallé Orchestra and regularly conducts the world's leading orchestras. He has led programmes to engage the Hallé in schools' educational programmes and is President of the charity Future Talent.
He said: "Manchester, and the power of education: two dynamic forces that lie at the centre of my life. Were I to have the honour of being elected Chancellor of The University of Manchester I would have a wonderful opportunity to draw these strands together. My professional life takes me all over the world and I have always taken enormous pride, and pleasure, from singing the praises of our great city. To continue to do so as Chancellor would be hugely exciting."