Your Manchester Insights - Understanding the General Election
20 Apr 2015
On Thursday, 23 April 2015 you could have the chance to question some of the leading academics from the British Election Study and the University's Politics department (one of the largest and strongest politics departments in the UK) on everything you wanted to know about the General Election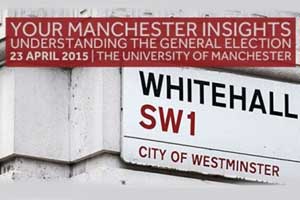 Questions likely to be discussed are: Why is the 2015 General Election outcome so unpredictable? Are single party governments a thing of the past? Can Labour win under Ed Miliband? What are the issues that will decide the 2015 election? How likely is Lib Dem wipeout? Will turnout make a comeback in the 2015 General Election?
We encourage you to bring your own questions and comments, or send them to us in advance of the event, to put to our distinguished panel of speakers, which will consist of: 
Professor Ed Fieldhouse, Professor of Social and Political Science and Principal-Investigator of the British Election Study
Professor Fieldhouse's main research interests are electoral geography and political participation, and in particular social influences on voter turnout.
Professor Jane Green, Professor of Political Science and Co-Investigator of the British Election Study
Professor Green is one of ITV's 2015 election experts for election night on 7th May and is a regular commentator on BBC Breakfast and on other national media. Her current interests are in how the public evaluates parties and governments for competence – and the electoral consequences of this. 
Professor Andrew Russell, Head of Politics
Professor Russell is a seasoned political pundit, making regular contributions to newspaper and television programmes. He has published widely on political parties in general, elections, campaigning and electoral engagement.
Our Chair for the evening will be alumnus and former Political Editor of BBC North West, Jim Hancock. 
Professor Colette Fagan, Faculty of Humanities Deputy Dean and Associate Dean for Research will introduce and welcome the speakers and Chair. 
The event will be held on Thursday, 23 April 2015 in University Place on the University campus. The evening will start at 6pm with tea and coffee and the discussions will start at 6.30pm. At the close of the discussions, we would be delighted for you to join our speakers and your fellow guests for a drinks and canapés reception. This promises to be a timely, lively and engaging event and we do hope that you will be able to join us. 
Any questions, please contact alumnievents@manchester.ac.uk. You can book by clicking here https://www.eventbrite.co.uk/e/understanding-the-general-election-tickets-16631379905