Do you have preloved/unwanted books in good condition?
17 Apr 2015
Donate them to a good cause with a University connection: the West Indian Sports and Social Club in Moss Side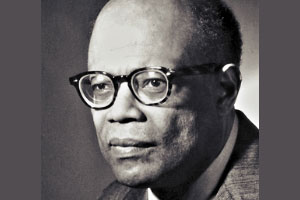 While Nobel prize-winner Professor Sir Arthur Lewis (1915-91) - the first black Afro-Caribbean professor in the UK - was working at the University in the 1950s, he noticed the discrimination and poverty in nearby Hulme and Moss Side.
In 1953, together with anthropologist Max Gluckman and members of the local community, he set up two social centres to provide technical education and contacts to help find jobs, housing and legal advice, one of which survives to this day as the West Indian Sports and Social Club (WISSC).
WISSC has recently approached us to ask for book donations to create a community cultural library.
They are particularly interested in book titles which are essential reading for African/Caribbean minds, as well as books that have inspired, motivated or moved you in some way.
If you have any books you wish to donate, please drop them off at the Centre:
Support 4 Progress (WISSCC), Westwood Street, Moss Side, Manchester, M14 4SW
Further information
Please contact Donna Rose at:
07742 962101 or 0161 868 096