Apprentice Nathan gains nuclear knowhow
15 Apr 2015
The University has launched its 2015 apprenticeship campaign to encourage managers across the organisation to consider hiring apprentices when suitable vacancies arise and has set a target of at least 100 apprentices in post by the end of the year.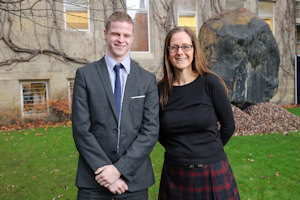 Here we talk to Nathan Mannion, who is an apprentice administrator. The 19-year-old, from Levenshulme, left school at 16 after sitting his GCSEs before attending Reddish Vale Technology College. His first job was as an apprentice at a gym but when the company closed down, he found himself unemployed.
"I managed to get a job interview with British Airways but there were candidates with degrees and more relevant experience," recalls Nathan. "But then I came across an apprenticeship working as an administrator at the University's Dalton Nuclear Institute. It just stood out.
"I had a word with my dad and he said the University would be a good place to work, so I applied and, fortunately, I got it!"
Nathan, who lives with his mum, a cleaner, and dad, a painter and decorator, says he's learnt many new skills since joining the University last year.
"I'm doing general admin and really enjoying it. I've learnt a lot; I've attended several in-house training programmes, like IT skills, time-management advice and how to give good presentations.
"My job has helped me grow in confidence when I'm dealing with people, either face-to-face or on the phone. The people I work with are really nice too; it's just a great place to work."
Nathan continues: "A lot of my friends are studying at university but I was never a fan of school and wanted to start work. I never thought I would end up working at a university though. If I wasn't here I'm not sure what I'd be doing. I'm really hoping I'll be able to go full-time when the apprenticeship is over."
Nathan's manager, Sam Roberts, Office Administrator at the Dalton Nuclear Institute, said: "Nathan has a great personality and very quickly settled into the team at Dalton. Right from the start he was very keen to make the most of the opportunities that the apprenticeship has opened up for him, and approaches every new task he is given with willingness and enthusiasm.
"Being Nathan's line manager has also been a great learning opportunity for me personally, helping someone with no previous experience of working in an office develop a whole set of new skills and at the same time seeing him grow in confidence has probably given me the same sense of achievement as Nathan!"
Anyone interested in learning more about the University's apprenticeship campaign can contact Steve Grant, Assistant Director of HR, by emailing steven.e.grant@manchester.ac.uk