Faculty of Humanities brings social justice to life through JustFest
15 Apr 2015
All undergraduate students are invited to attend JustFest from 12 noon to 6pm on Thursday, 23 April at University Place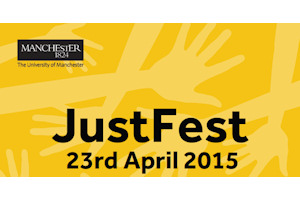 As part of our Social Responsibility strategy, every University of Manchester undergraduate will be given the opportunity to explore some big global issues. Through the Ethical Grand Challenges Programme, 1st year students will engage with Sustainability, 2nd years will grapple with Social Justice and 3rd year students will explore Workplace Ethics.
Different faculties have been given responsibility to develop pilot activities for specific themes during 2014-15 and this week the Faculty of Humanities is bringing social justice issues to life through a Social Justice Festival: JustFest.
JustFest has been created by a group of academics from all schools in the Faculty working in collaboration with the Student Development & Community Engagement Division.
Led by an exciting range of creative practitioners, academics, activists and community leaders, JustFest has 4 themes: Just Global; Just Sustainability; Just Education; Just Voice.
JustFest is split into two parts:
The main festival will take place between 12 noon and 6pm, outside University Place. A performance stage, exhibition tent and food stalls  will be open to all students;
In the morning, around 400 2nd year students from across the Faculty will attend workshops on a range of social justice issues.
JustFest presenters, exhibitors and performers from outside the Faculty include: Akala, BBC, Runnymede Trust, Christian Aid, Contact Theatre, Feedback Films, MC Fallacy, Manchester Museum and John McClure (Reverend & The Makers).  
Staff are asked to promote JustFest to their students.
Further information
Contact: