Staff Survey 2015 - only four days left!
17 Apr 2015
The final countdown has begun - you've just four days left to complete the Staff Survey 2015 and make your voice heard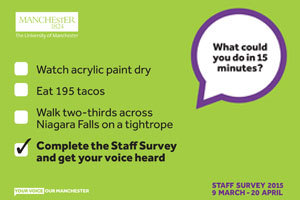 The Staff Survey 2015* closes at midnight on Monday, 20 April 2015.
This is your last chance to have your say about your experience of working at the University: make sure you don't miss it.
It only takes around 15 minutes to complete the survey, and you can be sure that all the information you supply will be anonymous and treated in strictest confidence. This is because the Staff Survey 2015 is being administered on the University's behalf by an external company, Capita.
What do I do?
If you haven't completed the survey, you will have received a email reminder on Thursday, 16 April from 'Staff Surveys' with the subject header 'University of Manchester Staff Survey 2015'.
If it hasn't arrived in your inbox, check your spam/ junk mail folder;
If you haven't receive a reminder, contact StaffSurvey@manchester.ac.uk;
If you need help to complete the survey, contact Capita on Freephone 0800 587 3115.
Two more good reasons to complete the Staff Survey
Once you've completed the survey, you'll be asked if you want to take part in a prize draw to win the last of six iPads. If you do, enter your contact details. The winner will be chosen at random by Capita, so no-one at the University will be able to link your contact details with the information you've submitted on your questionnaire.
You'll also be asked which of the three local charities you want your £1 donation to go to (which the University will give on your behalf): The Christie, St Ann's Hospice and the Mustard Tree.
Then just submit your completed survey and you're done. You won't be sent a receipt or acknowledgement from Capita.
* Staff who joined the University on, or after, 1 January 2015 are not included in the Staff Survey 2015.