Support EEE's Martyn Hussey in his Manchester Marathon Mission
09 Apr 2015
Martyn Hussey from the School of Electrical and Electronic Engineering will be running the 2015 ASICS Greater Manchester Marathon on Sunday 19 April 2015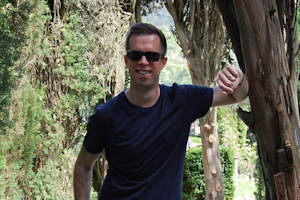 Martyn is running the 26. 2 miles to raise money for Crohn's and Colitis UK. Martyn himself suffers from Ulcerative Colitis and this has hampered his training schedule over the past month but he is still hoping to complete the race with in just over four hours.
Martyn said "This is a great cause and that's what is motivating to give it my all on the day and raise as much money as possible, despite my recent medical problems.
"I'm a keen runner and have previously run the New York Marathon in 2009,  but running a marathon in Manchester with all my friends, family and colleagues supporting me will be great experience".
Cardiff-born Martyn completed both his undergraduate and doctoral degrees in Physics at The University of Manchester and is now a based in the e-Agri Sensors Centre in the School of Electrical and Electronic Engineering, where his research focusses on the development of optical sensor systems for agriculture.
To sponsor Martyn and find out more about Crohn's and Colitis UK, visit: