Glittering prizes go on display
13 Apr 2015
A selection of the major trophies won recently by colleagues around the University is now on show in the Visitors' Centre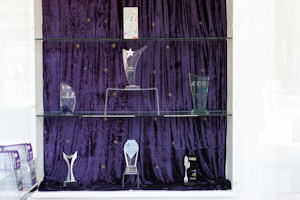 Each year, the University wins several major external awards. In the past, these were heralded on StaffNet News and other channels - and then forgotten. The trophies subsequently sat on shelves and mantelpieces in offices across the University, unseen by all but a small proportion of staff, students and visitors.
All that changed in December 2014, when a trophy case for our major awards was created in the Visitors' Centre in University Place. The following awards are currently on show:
2013
HeartSafe Tourism Awards (Category: Leisure Business of the Year) - for our work in installing automated external defibrillators across our cultural institutes;
CIPR PRide Awards North West (Category: Internal Communications Campaign) - Gold for the Staff Survey 3013 campaign;
Times Higher Education Awards (Category: Outstanding Constribution to the Local Community) - to the Directorate of Human Resources for The Works.
2014
Association of Chief Security Officers Awards (Category: Security Team of the Year) - to C Crew for disarming a man apparently threatening a student with a handgun;
Rainmaker Corporate Finance Awards (Category: Non-Traditional Deal of the Year) - to the team behind the successful £300 million bond issue in Juy 2013;
Footprint Awards (Category: Community Vote) - to Cafe Muse in the Manchester Museum;
College and University Business Officers Awards (Category: Excellence in Student Sport Experience) - for the Halls Sport programme.
The display is on view to the thousands of visitors who pass through the Visitors' Centre each year and will be constantly updated as new trophies are added to the collection and the older ones returned to their owners.
Sarah Davenport, who works on the information desk in the Visitors' Centre, said: "People who have called in at the Visitors' Centre for maps or other information often head over to the trophy cabinet and spend a few minutes examining the trophies. It was a really good idea to bring together some of the University's most important awards in a single, highly visible location."
If you have recently won a national or regional prize which you'd like to be considered for display in the trophy cabinet, please contact: