FMHS teams take Vertical Rush skyscraper challenge for charity
01 Apr 2015
Two teams from FMHS travelled to London recently to complete a charity run with a difference, in aid of the charity Shelter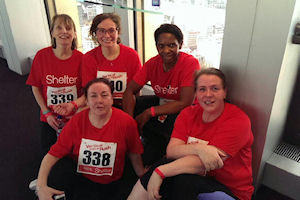 The teams, mostly based in the Stopford building, undertook the charity's Vertical Rush challenge of running up one of London's tallest buildings, Tower 42.
During the run the teams ran up 932 steps of the 104 flights up to the 42nd floor on the top of the building.
Team member, Christie Finegan joked: "Always keen to bend the rules I did check if there was any chance of a downhill run but was told no!
"We have trained since we came back to work after Christmas, pounding the stairs in George Kenyon halls of residence."
She added: "We're a group of very mixed ability from all ends of the spectrum, one is an ex-TA fitness instructor to the other end me a slightly rotund, out of shape 40 something.
"All the members entered the challenge with one common aim - to raise at least £180 each for this worthwhile cause, and to see if the champagne bar they promised us did really exist. It did, but sadly it was shut! We all finished, some in brilliant time, others less brilliant."
Taking part in the challenge with Christie were FMHS colleagues Carmel Sheehy, Shelagh Stedman, Anne Wilkinson, Stefanie Pohlmann, Brian Blower and Mike Berks.
So far the teams have raised in excess of £1000 for Shelter.