Barnes Wallis Building to reopen to students
01 Apr 2015
An exciting new student facility is about to open on the University's North Campus following a £1million investment to further enhance the student experience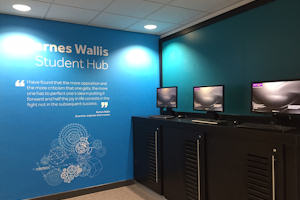 The new facility is based on the ground floor of the Barnes Wallis Building and features a 96-person computer cluster, a fully refurbished cafe, flexible 'learning commons' type learning spaces, a range of University and Students' Union support services including welfare, financial and careers advice, a staffed reception area, and a series of project and breakout rooms, all of which will be available for students to use for extended hours.
The refurbishment will formally open on Monday, 13 April, and opening times are:
Term times
Monday to Friday: 8am-midnight
Saturday and Sunday: 8am-8pm
Vacation times
Monday to Friday: 8am-8pm
Saturday and Sunday: 8am-5pm
"We are very excited about these great new student facilities," said Rachel Brealey, Director of Faculty Operations for the University's Faculty of Engineering and Physical Sciences. "This investment demonstrates our commitment to the student experience on the North Campus and provides spaces which students have frequently told us they need more of to support their studies.
"The new hub will provide an ideal mix of space for both working and socialising. Featuring high quality facilities and vibrant interiors to create a distinctive character and sense of place, we expect that the Barnes Wallis venue will be very popular with our student community.
"As well as University support services the hub will also be home to representatives from the Students' Union, providing a real 'one stop shop' for all your needs."
The development of the new Facility has been partly inspired by existing state-of-the-art University facilities, such as the Alan Gilbert Learning Commons and The Atrium, as well as student feedback on expectations of their campus environment.
The Barnes Wallis project will also help inform the design of student space for the University's new engineering campus - MECD.
Further information
Please use the channels below:
Key facts
96 person computer cluster
50 person informal WiFi enabled break out area
2 large group learning facilities
7 small group learning facilities
- Free and confidential advice from the SU Advice Service
- A range of student services