April's Diversity theme is Wellbeing and Mental Health
01 Apr 2015
Throughout the month we'll be looking at Manchester's Six Ways to Wellbeing: Connect - Be Active - Take Notice - Keep Learning - Give - Be Healthy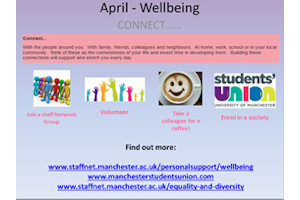 Looking after our physical Wellbeing also has a knock-on effect on our mental health.
One in four people will have a mental health problem in any one year and unfortunately these issues are often hidden, unexplored and stigmatised.
We should remember that we all have mental health – so why not use April as an opportunity to evaluate what we do to look after our minds.
This week, why not see how you can 'CONNECT'? 
You could:
join a Staff Network Group;
volunteer at a local community Group;
take time out with a colleague.
Any of these activities will make you connect with the people around you!
Further information