We Get It! says the School of Nursing, Midwifery and Social Work
11 Mar 2018
The School has committed to the University's zero tolerance campaign against all forms of unacceptable behaviour in the workplace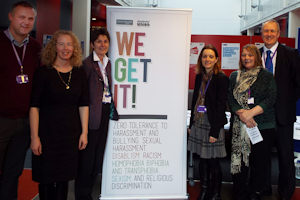 Launched in February 2014, the We Get it campaign aims to send a clear message that the University will not tolerate any form of bullying, harassment, sexual harassment or discrimination.
The zero tolerance approach is one of the actions implemented by the Behaviours group, which was formed in response to the Staff Survey 2013.
Members of the senior management team and 30 staff and students from the School attended an event to sign up to the campaign and show their support.
The School has committed to:
Think – by promoting  the campaign through local internal communications mechanisms and ensuring all staff undertake the University's E&D online training;
Talk - about bullying, harassment, sexual harassment and discrimination, at this event and during team briefs;
Report and Support – by promoting the New Report and Support button on their local intranet
So far, across the University, the We Get It campaign has achieved the following progress:
5518 people have signed the zero tolerance to sexual harassment pledge, including the University's SLT, HR SMT and the SMT in Nursing, Midwifery and Social Care;
The We Get It video has been viewed 11400 times;
35 individuals have provided feedback, 23 teams and many people attended talk events and told us where they draw the line;
40 people have completed the online bullying report form in four months (19 of these have subsequently spoken with an advisor and 21 were anonymous).
Find out more and get involved
If you would like to get involved with the campaign and show your support by signing the We Get it pledge: