THE turns spotlight on University 'arts lab'
26 Feb 2015
The John Rylands Research Institute is the subject of a recent feature in the Times Higher Education magazine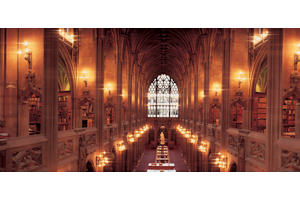 In an article entitled 'Building an 'arts lab' fuelled by the appliance of science', journalist Paul Jump focuses on the Institute's key work in pairing collections and curators with scholars and scientists.
The Institute was launched in October 2014 to bring together the world class expertise from the Faculty of Humanities and The University of Manchester Library.
In the article, Institute Director Professor Peter E Pormann, talks of how the Institute's pioneering matchmaking between scholars, curators and scientists could lead to a "paradigm shift in how people view at least some of the research going on in the arts."
The full article is available to read at:
Professor Pormann, who is also Professor of Classics and Graeco-Arabic Studies in the School of Arts, Languages and Cultures, has just won the 2015 Philadelphia Constantinidis Essay in Critical Theory Award.
The award is given for the best comparative essay on any aspect and period of Greek drama or theatre published in English in any journal or anthology in any country during the previous calendar year.