What do you think about your working environment?
03 Apr 2015
By completing the Staff Survey 2015 you can give yoru opinion on a range of topics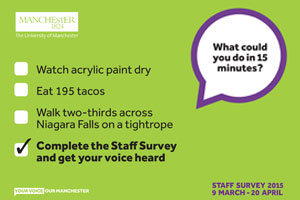 The Staff Survey is your chance to give your opinion on a range of subjects - what you think about commununication, your work relationships, physical environment, personal and professional development and much more.
It only takes around 15 minutes to complete, and you can be sure that all the information you supply will be anonymous and treated in strictest confidence.
If you have email access at work, you should have already received your email from Capita:
The email address the message will come from will be Staff Surveys and the subject line will be 'University of Manchester Staff Survey 2015'
If you haven't received this email by now, look in your spam/junk email to see if it's there. If you still can't find it, contact Capita on 0800 587 3115
Simply open the email and you'll find a weblink to the survey and your own unique password, which you'll need to access the questionnaire
Just click on the link, insert your password and fill in the questionnaire
At the end of the survey you will have the choice to enter a weekly prize draw to win an iPad and choose a local charity that will benefit from your response.
What's happened since Staff Survey 2013?
To find out what's been done across the University since the last Staff Survey in 2013 visit:
What's happened since Staff Survey 2013?
To find out what's been done across the University since the last Staff Survey in 2013 visit: