Three local charities will benefit from Staff Survey 2015
24 Feb 2015
The poll is now closed and you have chosen the three charities to which the University will give £1 donation for each survey completed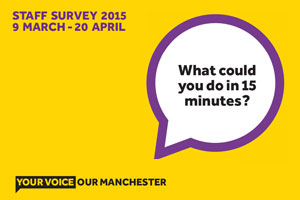 Last week, we asked you to take part in a poll to decide which three charities will receive these donations. You were each invited to choose one charity from a list of 10 local charities which reflect our commitment to social responsibility.
Your votes have been counted and we are pleased to announce that the three most popular choices were:
St Ann's Hospice - cares and helps around 3,000 patients (over the age of 16) and their families and carers every year who are affected by cancer and non-cancer life limiting illnesses.
The Christie - raises money to fund projects at The Christie which are outside the scope of the NHS.
The Mustard Tree - exists to create choice and opportunity for people who are homeless and marginalised.
Now all you need to do is to spend up to 15 minutes completing the Staff Survey 2015 between 9 March and 20 April, then select one charity from the above to benefit from a donation of £1: the University will send your donation on your behalf to your chosen charity
Further information
To find out more about the Staff Survey visit: