Apprentice Liam invigorates whole team
23 Feb 2015
The University has launched its 2015 apprenticeship campaign to encourage managers across the organisation to consider hiring apprentices when suitable vacancies arise; it has set a target of at least 100 apprentices in post by the end of the year.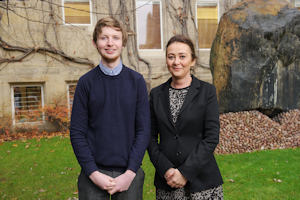 Here, we talk to Liam Walsh, 19, who works as an apprentice in the Arthur Lewis Building for the School of Social Sciences, initially in undergraduate student services but more recently as part of the admissions team.
The former Barlow High RC High School pupil left school in 2011 after taking his GCSEs and attended Aquinas Sixth-Form College in Stockport to study for A-levels in Sociology, English, Law and Media Studies.
"Everyone was focused on going to university after college but I decided it wasn't for me," says Liam, who lives with his parents in Levenshulme. "I liked school and passed all my GCSEs but it was the step up to A-levels that made me realise university wasn't for me."
Liam left college and took a part-time job at Nando's, the restaurant chain specialising in chicken dishes, while he looked for full-time employment. A number of job interviews followed before he came across the University's apprenticeship scheme.
"I'd been for several interviews before this one, so I was really chuffed when the University decided to take me on as an apprentice," says Liam. "This is my first nine-to-five job – it's more relaxed than working at Nando's, and there's certainly far less chicken involved!"
Liam's mum, a legal secretary, and builder dad are also thrilled at their son's new vocation: "They're really pleased and happy for me," he says. "I only have one other friend who has an office job – the others work on building sites like my dad.
"I can sense being the youngest in the office but am really enjoying it and the rest of the team are really supportive. I'm not 100 per cent certain what I'll do when the apprenticeship ends but I would like to stay on at the University. I hadn't appreciated just how big an organisation it is, but hopefully this will mean there will be opportunities for me to progress my career."
Admissions Manager Amanda Grimshaw said: "Liam's arrival as an apprentice in our office had a far greater impact on us than we imagined it would. He brought a freshness and enthusiasm that invigorated us.
"His initiative and candour led us to question why certain things were done the way they were. That fresh perspective on issues and processes helped us improve what we do, and how we do it.
"Liam has taken on new tasks and undertaken training with enthusiasm and now anticipates the needs of the office; he is an integral part of our team.
"People who think about the apprenticeship campaign in terms of the benefits to the apprentice are missing a big part of the story – employing an apprentice in our office benefited us all."
Further information
Anyone interested in learning more about the University's apprenticeship campaign can contact Steve Grant, Assistant Director of HR, by emailing: