University website tops higher education rankings
19 Feb 2015
Our web design praised alongside world's big brands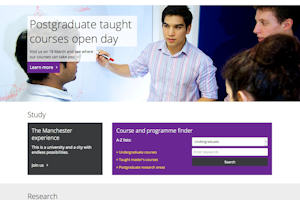 The University website is topping the ranks for accessibility in the higher education sector and being praised for its responsive design alongside some of the world's biggest brands, including The New Yorker, De Beers and Cathay Pacific.
Our website had already achieved an outstanding ranking in the latest Sitemorse higher education web index, a powerful report that rates an organisation's online presence, comparing it to peers from the same sector.
Sitemorse publish quarterly rankings, providing a snapshot of the best websites, with insight into which are passing and failing vital tests in performance, compliance, and accessibility.
Before the launch of the new website in April 2014, the University was 73rd. By December 2014, we had achieved an overall ranking for our website of 14th out of 335 universities and colleges in the UK.
In 2015 the University website moved up to sixth overall in the universities and higher education index, the highest ranked website of any Russell group university by some distance.
Now we have been ranked first in Sitemorse's latest accessibility ratings – this means we have the most accessible website of any university. An accessible website enables all people to use it, including those who have disabilities.
The University website has also been listed in the top 15 websites of 2014 by online marketing consultants, Econsultancy.
Our website stood alongside The New Yorker, De Beers, Cathay Pacific and the AA for its responsive design. Web design that is responsive offers a high-quality experience on a variety of devices, displaying content that is easy to find and read.
Comments on the article included one from George Harris, founder at webmethod.co.uk: "No big surprises that there are lots of big E-Commerce brands with deep pockets on here. That said, kudos to Manchester Uni who stand out as being different."
Director of the Division of Communications and Marketing Alan Ferns said: "This is great news for the University and is particularly pleasing as it follows a concerted effort by colleagues in this Division and across the University to improve the accessibility of the website for all users."
For more information, visit: