University protects garment industry workers
19 Feb 2015
We join universities affiliated with Worker Rights Consortium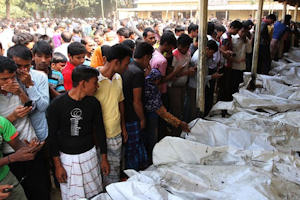 The University has joined a vanguard of UK universities who have affiliated with the Worker Rights Consortium (WRC), an independent monitoring organisation that supports workers in the garment industry in defending their workplace rights.
The garments bought by universities such as uniforms and branded clothing are in many instances sub-contracted to suppliers in the Global South. The WRC monitor the garment supply-chain to affiliated universities and then trace them back to the factory where they are produced. This allows universities to have confidence about their human rights, pay and safety records. WRC then implement a model code of conduct in the factories, which allow workers to unionise, independently report any incidents of negligence or abuse and address such situations of poor pay and working conditions at factory level, for adults and children.
The WRC has had worldwide success in engaging universities in its work. More 182 colleges and universities – mainly in North America – have now affiliated, including 11 in the UK. This is alongside 220 Students' Unions, including the University of Manchester Students' Union.
Dr Julian Skyrme, Director of Social Responsibility, said: "We are very pleased to announce our affiliation to the Worker Rights Consortium, who provide global expertise and independent scrutiny in the garment industry. Meeting the conditions for affiliation was a real team effort, involving colleagues in our procurement team, academic advice from our own expert in this area, Professor Stephanie Barrientos, and the support and engagement of University of Manchester Students'Union, who made a real commitment to working with the University to achieve this change. "
Joel Smith, Activities and Development Officer in the University of Manchester Students' Union said: "It's fantastic to see the University working with the Students' Union to bring about improvement in conditions for workers in the garment industry. It's great to see grassroots student-led campaigns being realised and to see the University taking responsible steps as a large organisation, utilising its purchasing power for good."
More information