Street market returns next week
27 Feb 2015
From 10am on Tuesday, 3 March 2015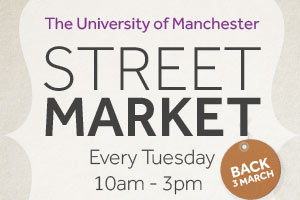 The street market will be back on Tuesday, 3 March 2015 from 10am outside George Kenyon Hall. 
Stalls include exciting street food suppliers made with locally sourced ingredients including gourmet organic coffees, slow cooked marinated BBQ food, wood fired pizza's, vegan hot dogs and pies, empanadas and pulled pork sandwiches and Burmese curry to name a few. For those with a sweet tooth, brownie, gourmet marshmallow, cupcake and ice cream stalls will be present.   
In addition to street food a variety of locally sourced delicious ingredients will be available to take home including seasonal meats, ethical loose leaf tea, bread, fruit and veg, cheeses, eggs and butter, homemade curries, chilli sauces, pickles, herbs and spices and natural soft drinks.
It's a great opportunity to shop, eat and browse from some of the regions best producers.