University Chorus performs Mendelssohn's St Paul
18 Feb 2015
On Sunday, 26 April (7.30-10pm) in the Whitworth Hall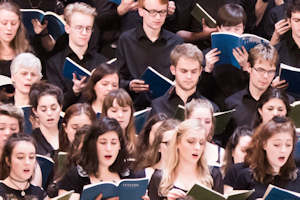 The Chorus will be joined by their daughter choir, The Cosmo Singers, and by Manchester University Music Society's Symphony Orchestra. They will be conducted by Justin Doyle.
Founded in 1936, the University Chorus is a non-auditioning choir with a membership of over 250 of our students, staff and alumni as well as members from the wider community of Manchester and beyond.
The Chorus is part of the long-standing choral tradition at the University, performing large scale works in two concerts during its season. Cosmo Singers, founded in 2010, is a concert choir formed from within the chorus to provide its members with the opportunity to perform smaller works in more concerts.
Booking
Tickets available from:
Further information