Staff Survey is back!
16 Feb 2015
Staff Survey 2015 opens on Monday, 9 March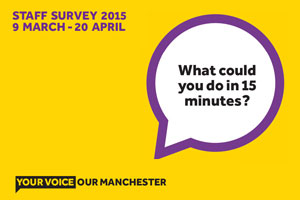 Our staff are our most valuable asset. If we are to meet our ambitious Manchester 2020 goals, our staff need to feel encouraged, valued and motivated – and the main way to measure this is by asking for feedback about your experience of working here.
We did this through the Staff Survey 2013 – 71% of you responded, giving us a true mandate for the action plans which were developed to address issues at University and local areas. 
And now it's time for Staff Survey 2015, to build on the foundations of the last survey – launching next Monday, 9 March for six weeks.
It only takes around 15 minutes to complete, and you can be sure that all the information you supply will be anonymous and treated in strictest confidence.
You will be entered into a weekly prize draw to win an iPad from the time you complete the survey.
And you will be able to make a £1 donation to your choice from one of the three local charities, shortlisted by a staff vote, supporting the University's third goal of social responsibility.
The survey results will be published in summer, with action plans being agreed in September at a University-wide, Faculty and local level.
What we have done since the last survey
You can find out about all of the different actions that have been taken since the last survey in 2013 at:
For further details visit: