The Whitworth reopens on Valentine's Day
10 Feb 2015
Visit our transformed art gallery from 14 February – and find out more via a number of BBC features.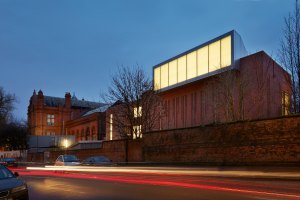 We're delighted to welcome back the University's gallery in the park on Saturday, 14 February.
And to celebrate the gallery's development – alongside ten opening exhibitions, new commissions indoors and out, and the remarkable achievements of MUMA (McInnes Usher McKnight Architects) – we've put together a Valentine weekend's worth of art, music, talks, walks, performance, literature, family fun and a fire and light show.
Find out more about the weekend's activities on the Whitworth website.
The Whitworth on the BBC
You can tune in to the following BBC programmes to hear more about the reopening of our gallery:
The Verb (broadcasting on 13 February, 10pm, BBC Radio 3) – guests include Cornelia Parker OBE.
Front Row (originally broadcast on 12 February, 7.15pm, BBC Radio 4) – the arts review show previews the Whitworth's reopening.
Reopening of the Whitworth Art Gallery (broadcasting on 15 February, 7am, BBC Radio 6) – Mary Anne Hobbs celebrates the reopening of Manchester's Whitworth Art Gallery with guests Professor Novoselov OBE and Cornelia.
You can also read more about the collaboration between Cornelia and Professor Novoselov in an interview on the BBC News website, or watch their appearance on BBC Breakfast via YouTube (from 2.02 onwards).