Fairfield High to honour the memory of former pupil Professor Fanni Bogdanow
10 Feb 2015
Members of staff are invited to attend the unveiling of a plaque commemorating the late Manchester alumna and academic on 31 March 2015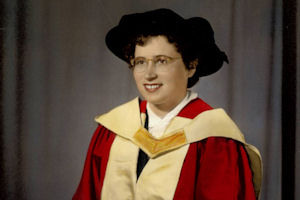 Fanni Bogdanow fled the horrors of Nazi Germany in 1939 at the age of 11 as one of the 10,000 Jewish children rescued by the UK in a mission known as the Kindertransport. An only child, she was taken in by a Quaker family in Denton.
She was one of the few Kindertransport children whose parents survived, between them, the appalling concentration camps of Dachau, Wulzberg and Bergen-Belsen. She was reunited with her mother in Manchester during the 1950s.
After studying with distinction at Fairfield High School for Girls, Fanni Bogdanow was awarded three entrance scholarships to the University in 1945 where she studied French.
She went on to spend much of her career at the University as postgraduate student, lecturer, reader and professor, to become one of the world's foremost scholars in her field - King Arthur and the Knights of the Round Table.
After her death in July 2013 aged 86, it was announced that Professor Bogdanow had bequeathed over £1.5 million to the University.
Her legacy is being used to fund a series of lectures which take place around Holocaust Memorial Day on 27 January starting from 2015, prizes for high performing students and includes a significant gift to provide flexible support for the University's strategic priorities.
The unveiling will take place at the School's site in Droylsden during the afternoon of 31 March. If you would like to attend the event, please mail: