Playing God in Manchester
10 Feb 2015
A unique film series kicks off in Manchester on 5 March bringing together the diverse themes of religion and science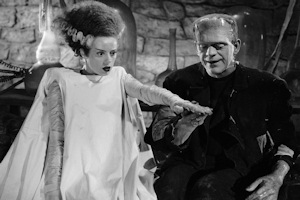 The Playing God Film Series will explore how science and religion are portrayed in six films being shown across March, April and May at the Anthony Burgess Foundation. At each screening an expert speaker will provide a brief introduction before the film and then lead a post-screening discussion with the audience.
The series has been organised by the Science and Entertainment Laboratory based in the Centre for the History of Science, Technology and Medicine. The films range from the 1935 cult classic The Bride of Frankenstein to the original Planet of the Apes, the Exorcist and the 2014 film I Origins. 
Dr David Kirby explains the thinking behind the series: "We wanted to look at all six films in a new and different way, asking fresh questions about the content, and challenging audiences to consider the nature of and connections between science and religion."
The films are free to attend and booking is not required. All screenings start at 6.30pm. 
The full schedule is:
5 March: The Bride of Frankenstein 
introduced by the science studies scholar Dr David Kirby
19 March: The Exorcist 
with an introduction by film scholar Professor Mark Jancovich
16 April: Planet of the Apes
introduced by scifi expert Dr Amy Chambers
30 April: Solaris
with an introduction by filmmaker Sean Martin
14 May: Creation
introduced by theologian Professor Peter Scott and historian Professor Joe Cain
21 May: Altered States 
with an introduction by historian Dr William Macauley
Further information