University provides in-kind support for Contact remodelling
06 Feb 2015
Leading young people's arts organisation Contact is to carry out a £6m remodelling of its existing building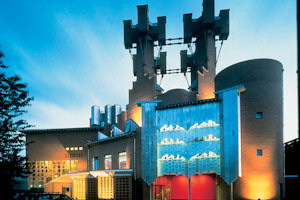 Corridor Partners The University of Manchester and Bruntwood have both committed significant in-kind support, including high-level development and project management advice and assistance, toward the development, for which Arts Council of England has already earmarked £3.85m.
Contact has appointed Sheppard Robson, the architects for the Alan Gilbert Learning Commons, to improve the capacity and flexibility of the performance and media spaces and to redesign the public areas. The project will also include the overhaul of back of house spaces, including office, training and hire facilities and new-build elements to improve the overall capacity of the venue by around 300 sq m.
Contact's highly distinctive existing structure, designed by architects Alan Short and Associates and completed in 1999, will be fully retained, with careful attention paid to how the building now engages and connects with its immediate urban setting through the new additions, improved lighting design and integration of new landscape elements.
Matt Fenton, Artistic Director/Chief Executive at Contact, added: "We're delighted about the appointment of Sheppard Robson to lead the process of transforming Contact's building. The project will cement our role as the leading arts organisation nationally focussing on young creativity and leadership, as well as delivering a state of the art production facility for innovative new performances and digital projects, for audiences in Greater Manchester, nationally and online."