Earth Week 2015: 9-13 February
04 Feb 2015
Next week, the Students' Union will be running Earth Week across the University campus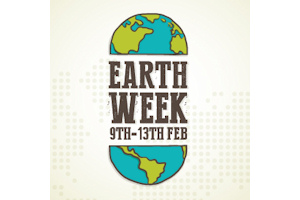 Earth Week is a series of events which explore the future of our world and the issues that we need to tackle in our lifetimes. All Staff are invited to attend any of the events or lectures. The full programme can be found online at:
Each day will have a theme, which will explore sustainability and wider societal problems we face. The days will be organised around the topics of:
Monday - Food and Consumption
Tuesday - Global Inequalities
Wednesday - Humanitarian Day
Thursday - A Green Economy
Friday - Energy
At 5pm each day, there will be a talk in University Place focusing on these issues. 
There will also be a food festival, a green jobs information fair, BikeFest, a free masters course from HCRI and much more. Please attend where possible and support Manchester Students' Union.