University launches 2015 apprenticeship campaign
22 Jan 2015
The University has launched its 2015 apprenticeship campaign to encourage managers across the institution to consider hiring apprentices when suitable vacancies arise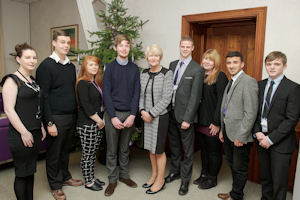 The University has set a target of 100 apprentices in post by the end of 2015.
The University has been recognised by the Skills Funding Agency and the National Apprenticeship Service as the only university in England to have committed to recruiting apprentices directly to its workforce on this scale, says Steve Grant, Assistant Director of Human Resources, who leads for the University on apprenticeships.
The President met with some of the 2014 University apprentices at Christmas to find out first hand how they were enjoying being employed by one of the country's leading higher education institutions.
She said: "I was really pleased to be able to meet with a cross-section of our first cohort of apprentices. I was impressed by their enthusiasm and commitment to the University and its ambitions. It's important that we invest in future talent and equip our young people with the skills universities and other employers require."
The University of Manchester is the first higher education institution in the UK to fully embrace the national apprenticeship scheme and is committed to build on its 2014 success by employing 50 more apprentices across the campus over the next 12 months.
Steve added: "I have been hugely encouraged by the success of our 2014 cohort of apprentices who are working and learning in Humanities, EPS and Estates and Facilities and who have benefited from the support of committed managers and supervisors. The feedback I have received from their line managers and from the apprentices is that the programme is successful and that we could and should do more.  I will be working with the National Apprenticeship Service and University colleagues to ensure we build upon last year's success.
"This is as much about what we can do for young people as a major employer in the region as it is about changing the age profile of our workforce, investing in skills development and bringing in new people with fresh ideas."
If you are interested in finding out more about the University's apprenticeship programme contact Steve Grant on 52040 or email steven.e.grant@manchester.ac.uk