Helping you to promote student experience surveys
20 Jan 2015
Toolkits are now available online for both Postgraduate Taught Experience Survey (PTES) and National Student Survey (NSS), which will be open from 2 February to 30 April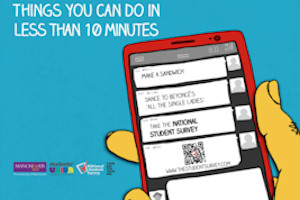 As you may be aware, the Unit Surveys have now closed. Early indications are that there was a very good response rate.  Full details will be provided in due course by the Unit Survey team.
The next opportunity for students to feedback via institutional student experience surveys is through PTES and NSS, both opening on Monday, 2 February and running until Thursday, 30 April.
For those of you who are responsible for promoting the surveys within Schools, there are toolkits available at:
The toolkits provide more detailed information on the various aspects of the PTES and NSS, including student eligibility criteria, methods for promotion of the surveys as well as a link to previous results. 
The Student Communications team will be disseminating hard copy materials, including posters, to all our named School contacts soon. For any queries regarding posters, please contact the Communications team directly at:
Full details of the communication timetable can also be found on the survey toolkit on Staffnet.
The method for launching the surveys will be via a personal email sent to all eligible students.
As you know, all responses given to the surveys are anonymous and cannot be traced back to individual students.  Students can understandably be concerned about this so we would encourage you to emphasise this point in your communication about the survey.  We hope that by reinforcing this point, more students will be willing to engage in the surveys and we can increase response rates.
If you have any queries regarding either the PTES or NSS, please contact the Directorate for the Student Experience office at:
Equivalent information about PRES will be available in due course.