Manchester Teaching Awards 2015
19 Jan 2015
Encourage students to nominate their favourite lecturers, postgraduate teachers and support staff by 27 March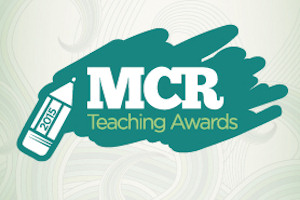 The Students' Union is running the Manchester Teaching Awards again this year! The Manchester Teaching Awards are a great way for students to recognise and reward their favourite lecturers, postgraduate teachers and support staff for the amazing work they do. Students can nominate on the Students' Union website for a variety of categories, including Best Lecturer and Best Support Staff/Team.
Please share this information with your department and students - who knows, you might even get a nomination!
Nominations close on Friday, 27 March at 5pm.
Further information
For more information, please go to: