Jodrell Bank and John Rylands Library help The One Show to make music
15 Jan 2015
'Music of the Spheres', a short film to be shown on BBC 1's The One Show on Friday, 16 January (7pm), will feature an interview with Dr Tim O'Brien at Jodrell Bank and a look at two 17th century books held in The John Rylands Library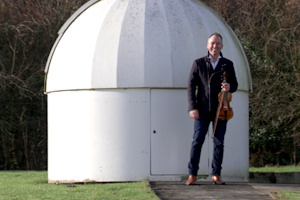 The One Show musician Richard Mainwaring has sent his latest composition into space, as he investigates mathematician Pythagoras' theory that the planets of our solar system made music while circling through the heavens.
With help from calculations by 17th century astronomer Johannes Kepler and a backing track of pulsars recorded at the Jodrell Bank Observatory, his 'Music of the Spheres' is listened to by Italian astronaut Samantha Cristoforetti as she gazes at our home planet, Earth, from the cupola of the International Space Station.
The short film includes a trip to Jodrell Bank and an interview with Director Tim O'Brien, plus a closer look at two original works by Johannes Kepler which are now held by The John Rylands Library. These are Mysterium Cosmographicum published in 1596 and Harmonices Mundi from 1619.
The item will be broadcast on The One Show at 7pm on Friday, 16 January and will be available on BBC iPlayer for 30 days afterwards: