Coaching with Resident String Quartet "Quatuor Danel"
12 Jan 2015
On Friday 23 - Sunday 25 January, at the Martin Harris Centre for Music and Drama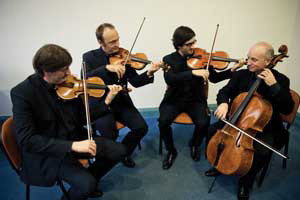 The University of Manchester and its internationally-renowned resident string quartet, Quatuor Danel, invite you to join in another fantastic musicmaking opportunity.
Everyone is welcome to participate in the event, which will feature coaching by individual members of the Quatuor Danel and Professor David Fanning, who will also take part in end-of-day discussions/workshops.
Taking place 23-25 January 2015, the event is offered to amateurs, professionals and students, and participants should all be in established ensembles, from duos upwards. We will endeavour to offer each group attending for two days or more a minimum of three coaching sessions with our resident experts.
To book:
Tickets are priced at £63 / £21 and are available from:
The Martin Harris Box Office 0161 275 8951 (2-4pm weekdays)
(Deadline: Friday 16 January 2015)
Further information: