Claire is making a difference
20 Nov 2014
Claire Fraser helped to organise the first Holmbridge Community and River clean-up days in June and September 2014 to ensure her village looked its very best during the Tour de France and in the following months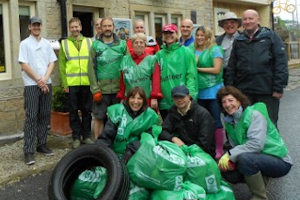 Claire, who is EQUIP Programme Manager in the School of Nursing, Midwifery and Social Work, feels privileged to live in such an area of outstanding natural beauty and is passionate about keeping it this way and ensuring that rivers, footpaths and leisure areas are free of litter and able to provide the best possible habitat for local wildlife.
The clean up day in June was such a great success, with a team of enthusiastic volunteers giving up their Saturday morning to collect litter and remove invasive species, that they held a second event in September 2014 and will repeat the exercise bi-annually in the future.
Claire (who is wearing the red baseball cap in the photo) said: "If we all take responsibility for our local area, imagine what a wonderful place we can create!"