Pudsey's Patisserie bakes up a big profit for charity
17 Nov 2014
The Directorate of Estates and Facilities bake sale on Friday, 14 November raised over £700 for Children in Need – a new record!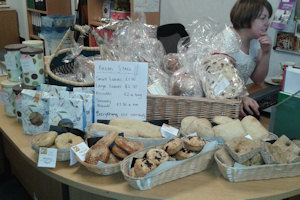 The Directorate of Estates and Facilities would like to say a huge thank you to all the bakers and everyone who came along to Pudsey's Patisserie last Friday to buy cakes, bread and raffle tickets.
The prize winners were:
Sweepstake
Lego Pudsey and Pudsey mug – Brad Murphy
Pudsey apron – Ashley Moorhouse
Raffle
Christmas cake – Katrina Hendry
Gingerbread house – Margaret Quinn
Lunch at Christies – Angela Taylor
UoM hoody – Lin Ratchford
UoM T-shirt – Simon Jones
Sparkling wine – Anne-Marie Marshall, Lucy Millard and Steve Smyth
Red wine – Ruth Froes
Homemade biscotti – Matt Cawley and Anne Bradley
Thank you again so much - we hope to see you again next year!