Suppliers exhibition a huge success
07 Nov 2014
Last week's eMarketplace supplier exhibition was a huge success with more than 330 staff attending during the day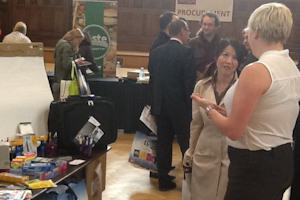 Finance Director Steve Mole opened the event, which saw 31 suppliers displaying their goods within the Whitworth Hall, a fabulous setting for the many products shown.
Colleagues from across campus appreciated the chance to view new innovative items, obtain samples, find out about services and meet suppliers. The Hospitality and Events team and Furniture4reuse also displayed the services they offer throughout the University.
Learning opportunities were also provided for both University staff and attending suppliers, with two eMarketplace update sessions, two oligo's sessions and two Supplier Engagement Tool sessions; more than 100 people visited the breakout sessions.
Many prizes were awarded by the stall holders throughout the day, and the main prize draw was awarded once all the 'Supplier Stand Visit Cards' were taken back to the Procurement Office to be counted and verified.  A full list of winners will be posted on the Procurement Office web site.
The day's main prizes were three LENOVO tablets. They were awarded to Heather Devine in the School of Arts, Languages and Cultures, who won the stamp card lucky dip, and both Stephen Birch, of the Faculty of Medical and Human Sciences, and Jacqueline O'Callaghan, of the School of Social Services, who won the Main Suggestion Scheme for their ideas on 'How The University of Manchester can add value to receiving goods and services by working together more effectively with staff, systems and our suppliers'.
As the Procurement Office had pledged to donate one hour of community work for every 12 people who attended the exhibition, they will be donating 30 hours of their time to the University's Give & Gain Day 2015 initiative - aptly as the exhibition's theme was 'working together'. The team will advise University staff of the charity selected and the job to be undertaken once the decision has been made.
Give & Gain Day is the UK's only national day of employee volunteering. Every year since 2008, it has given companies a unique opportunity to bring community action to life in a celebration of the power and potential of employee volunteering across the world. By getting unprecedented numbers of people out volunteering on one day, we're championing the talent, skill and energy found in business and the role it can play in helping communities prosper. The University formally recognises this and supports it.
Further information