Close encounters with the 15th century
20 Nov 2014
How our Learning Through Research programme enhances students' learning experience and improves their employability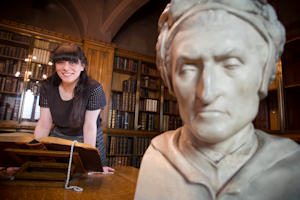 Students of Italian Medieval Literature get to hold history in their hands at Manchester.
The remarkable collection of 15th century books at The John Rylands Library takes the subject out of the classroom and brings it to extraordinary life.
Senior lecturer in Italian, Dr Guyda Armstrong, focuses on Dante's "Divine Comedy" in all its guises from manuscript through print and even as a mobile phone app.
Her "Beyond The Text" course examines the cultural and technological history of the iconic poem – which is constantly being regenerated.
But it's when her students feel the pages of the centuries-old books themselves that they truly celebrate the learning experience.
It's through those primary sources that they learn to develop a critical approach to research.
The course is part of our Learning Through Research programme, which sees undergraduate students taught about their subject by looking at – or even doing – research. This not only enhances our students' learning experience, it will improve their employability by increasing the scope of their studies and skills base.
"We call them encounter sessions or close-ups," says Dr Armstrong, who has won teaching awards from both Harvard University and the University of Manchester. "It's absolutely mind-blowing for the students to handle something that was made in the 15th century. It gives them a real sense of themselves. It makes them think.
"There aren't many places you could do this kind of work. It's individual to Manchester, using the cultural heritage of the city to teach our students, our unique offering, you might say.
"The Library is one of the leading places in the world to hold these Dante editions. We have virtually all the early printed editions of Dante – in the UK our holdings are only rivalled by the British Library, Oxford, and Cambridge.
"Manchester University students can work with the historic artefacts and their research into those artefacts is fed back into library catalogues,"
Dr Armstrong has worked closely with Rylands Rare Books and Maps Manager, Julianne Simpson, and Manuscripts and Archives Manager, John Hodgson, since she began teaching this course seven years ago. Last year the John Rylands Research Institute was set up to develop research on the collections.
"Our students are becoming independent researchers in their own right," says Dr Armstrong. "They are doing at undergraduate level what we would normally expect senior researchers to do.
"There are millions of books at the Rylands and experts just don't have time to examine each and every one.
"My students have made some really important discoveries, identifying new features of the books, for example, that have all contributed to the Library's font of existing knowledge.
"They also see how their own learning maps onto the other research cultures at the university.
"We are all learning from this material –learning together and collectively - and it's really important to model that collaboration."
Not surprisingly the work has given many graduates a taste for further research – acting as a trajectory for Masters and PhDs.
Sarah Todd graduated from Manchester in French and Italian in 2010, completed her Masters in Italian in 2011 and is now completing her PhD on medieval Italian literature.in Leeds.
"I definitely wouldn't have pursued a career in academia were it not for the amazing resources available in the library," she says.
"My entire MA was pretty much centred on the study of rare books and manuscripts in the Rylands, and because of the richness of both the collections – and the teaching – I was trained how to effectively carry out my own research, not just how to write an essay. I graduated as a competent bibliographer."