The University of Manchester Low Emission Vehicle Scheme launches
05 Nov 2014
As part of our drive to reduce the University's carbon footprint, we will launch a new car parking tariff on Monday, 10 November that will offer significant discounts for staff who drive low emission vehicles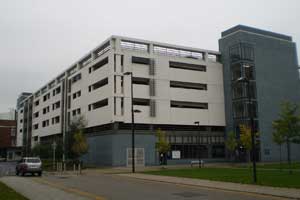 The new tariff is just one part of a package of measures designed to encourage lower carbon emitting modes of travel for University staff and students. Other measures include a major investment in the Bus Priority scheme on routes that serve Oxford Road and improved facilities for cyclists.
The new car parking tariff will take account of engine size, fuel type and carbon dioxide (CO2) emissions and will offer:
A 75% reduction in the annual car parking charge for those cars that emit less than 100g/km of CO2
A 50% reduction in the annual car parking charge for those that emit 101g/km to 110g/km.
Car tax bands are based on carbon emissions per km, your V5C Registration form or 'Logbook' details this. If you are unsure of whether your current vehicle meets the criteria you can find out here. 
The University is committed to trying to reduce the impact on the environment of the journeys that staff and students make to the campus. We appreciate that many staff have to drive to work for personal reasons or because there are no convenient public transport routes available from where they live. We are, however, keen to encourage a flexible approach to travel, such as cycling in the summer and using public transport on one or two days a week and to encourage this flexibility, the new car parking tariff will be available to both full time and flexible permit holders; existing full time permit holders will also be able to switch to a flexible permit. 
There is a huge amount of positive work taking place around Greater Manchester to increase use of sustainable travel. Here are the main schemes which are underway (there may well be more in your local area):
Further information
Find out more about the Low Emission Vehicle scheme online at: