Lord Heseltine opens biggest ever Policy Week
04 Nov 2014
Former Deputy Prime Minister, Lord Heseltine opened the University's biggest ever Policy Week with a topical address on the power of devolution in tackling deprivation and boosting aspiration in cities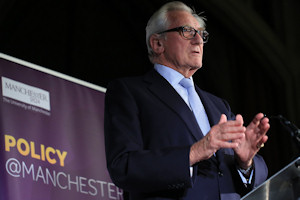 Lord Heseltine spoke to an audience of 200 at Manchester Town Hall at the start of Policy Week 2014 which is this year delivering a series of public lectures, debates and workshops under the theme 'Addressing Inequalities'.
The former secretary of state has become a champion of cities, regional devolution and regeneration and spoke on the day that Greater Manchester signed an historic devolution deal with HM Treasury.
His lecture, entitled 'The Forgotten People', recounted his days as a secretary of state overseeing the budget for the regeneration of Manchester's Hulme estate, the responsibilities of local government in building ladders of aspiration and the ongoing journey towards "now unstoppable devolution".
Lord Heseltine is author of the 2012 government-commissioned review 'No Stone Unturned: in pursuit of growth' which highlighted the need to boost growth outside London and decentralise public spending. Speaking on Monday night about the need to reform the relationship between regional and central government, he said: "The machinery between local government and Whitehall is not up to the job."
He described the devolution deal struck by the Greater Manchester Combined Authority as "one of most important days in Mcr's long & distinguished career".
His enthusiastic endorsement of empowering public sector stakeholders to forge their own destinies and tackle the inequalities on their doorstep kicked off a packed week of events hosted by policy@manchester with the aim of showcasing the University's place at the policy table.
Further information