Christmas Carols in the City
04 Nov 2014
On Thursday, 18 December (7-9pm), Royal Manchester Children's Hospital Charity is hosting its inaugural Christmas Carols in the City concert at Manchester Cathedral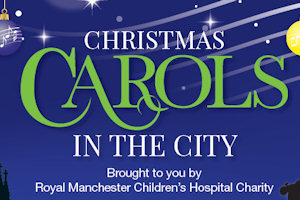 The event, hosted by world renowned soprano Lynne Dawson, will feature readings from Charity patrons, including Guy Garvey and Julie Neville, as well as performances from the choirs of Manchester High School, The Manchester Grammar School and Withington Girls' School. There will be congregational singing to set the scene for Christmas and get into the festive spirit.
Tickets
Adult £10
Concession £5 (children under two years free)
Family ticket £25
All proceeds from the event will support the provision of Giggle Doctors at Royal Manchester Children's Hospital. Giggle Doctors help distract our poorliest patients and their parents, bringing laughter and normality at the most stressful of times.
Further information and booking