Vasaio fresh pasta bar now open
03 Nov 2014
Serving daily changing Italian classics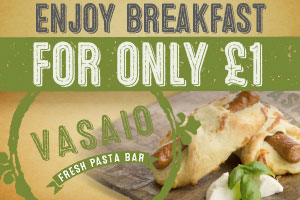 Vasaio (previously Potters) is located on the ground floor of the Simon Building on Brunswick Street. It serves delicious daily changing pasta dishes using fresh pasta and homemade sauces alongside many other Italian classics.
 
Fancy something a bit different for breakfast then pop in and try traditional Italian flatbreads with a choice of fillings, freshly baked pastries, bacon ciabatta, toasted specialty breads and fresh fruit.
 
Try one of the hot breakfast items for only £1 from Monday 3 November to Friday 14 November - To redeem all you have to do is download the breakfast voucher and hand over at the till point.
 
Vasaio is open 7:45am to 5:30pm Monday to Friday.