University wins equality award
24 Sep 2014
Business in the Community honours our recruitment of ethnic minority talent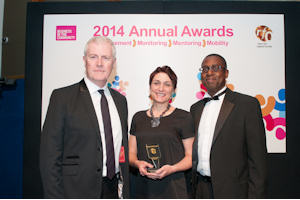 The University has been recognised for its leadership in attracting, retaining and progressing the best Black, Asian and Minority Ethnic (BAME) talent by winning the Transparency, Monitoring and Action Award at the Race for Opportunity Awards 2014.
Race for Opportunity is the race equality campaign from Business in the Community.
The eight awards celebrate the public and private sector organisations delivering outstanding practice, dedication and innovation around race equality, diversion and inclusion in the workplace.
The University won the Transparency, Monitoring and Action Award, which is awarded to an organisation for a programme or initiative that recognises best practice in monitoring and evaluating the attraction, recruitment, progression, development, employee engagement, appraisal/performance ratings and retention of BAME employee in their workplace.
Patrick Johnson said: "It was fantastic to receive this prestigious award as it puts the icing on the cake of an impressive eight years as Associate Vice President for Equality and Diversity (Social Responsibility) for Professor Aneez Esmail, who had as one of his key goals to have in place robust equality monitoring that would provide the University with an evidence based approach to equality and diversity."
Sandra Kerr OBE, Race for Opportunity Director, Business in the Community, said: "Congratulations to our Transparency, Monitoring and Action Award winner, the University of Manchester. All entries this year were of an exceptionally high standard, so they should be extremely proud of their success.
"At a time when ethnic minority people aren't reflected at senior level and barriers to equal progression still exist, it's hugely uplifting to see they are taking action to change this. Their work shows the positive impact of collaboration within and across organisations in attracting, retaining and progressing BAME talent, and I hope other employers will learn from their example."