A picture of inspiration
24 Sep 2014
Mural to commemorate Arthur Lewis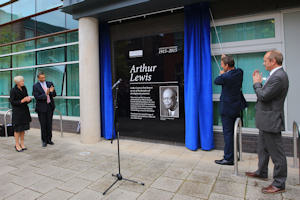 Staff, students and the local community gathered on campus for the unveiling of a mural commemorating economist Arthur Lewis, which has been placed on the outside of the building named in his honour.
The mural was unveiled by Economist Jim O'Neill, Honorary Professor of Economics, who also took part in the Postcolonial Atelier Series on Development to debate the Complex and Changing World Economy and delivered the Arthur Lewis Centenary Lecture.  
The mural has been created to inspire and inform those who walk past the building on a daily basis, including the many children who attend schools close to the University.
Arthur Lewis was a founder of development economics and when he joined The University of Manchester in 1948, at the young age of 33, be became Britain's first black professor. He went on to complete most of his important work at the University and in 1979 was awarded the Nobel Prize in Economic Sciences.
During his time in Manchester, Lewis also became a lead campaigner to improve the socio-economic status of the Afro-Caribbean community of the city, a large proportion of whom lived in Hulme and Moss Side. Seeing further education as the key to development, Lewis was instrumental in securing the opening of Afro-Caribbean community centres in Moss Side, offering both social activities and evening classes. One of the centres, the West Indies Sports and Social Centre, continues to this day.
The installation of the mural is one of several activities celebrating the centenary of his birth and highlighting his important work at both the University and with the local community.