Sign up for Green Impact!
23 Sep 2014
A fun, easy and innovative way to help to reduce the University's environmental impact – form a team from your department, lab or building and sign up today!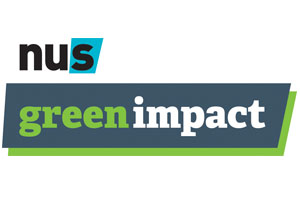 Green Impact is an environmental accreditation and awards scheme that brings staff and students together to make positive changes in environmental practice.  It plays an important part in supporting the University's Enabling Strategy 8 - to embed environmental sustainability as a key priority across the full range of our activities.
The scheme encourages sharing good practice and celebrates the achievements of teams and individuals at an awards ceremony at the end of the program.
The University has been involved in Green Impact for the past five years, with participation growing each year.  Last year saw a record number of 67 teams and we are hoping that more people will want to get involved this coming year.
You can form a team in your department, building, or lab, to work through the criteria in the online workbook, accruing points and collecting evidence, and covering every aspect of sustainability - from biodiversity to fair-trade, energy to waste.
It's also a great opportunity to enhance the student experience, with trained student project assistants to support and help you with the workbook.  You will have access to a wealth of resources on the Environmental Sustainability website and the Environmental Sustainability Assistant, Glen Marsden, will be providing support to Green Impact teams.
Professor James Thompson, the new Associate Vice-President for Social Responsibility and Environmental Sustainability, says, "Green Impact presents a fantastic opportunity to engage in a programme which both helps us become a more sustainable institution, and rewards participants for their efforts.  It encourages a sense of collaboration; by bringing together colleagues from different teams within the same buildings and by forging stronger links between students and staff."
Sign up your team
To find out more about Green Impact or to sign up your team visit: