Snowdrop City
22 Sep 2014
On Sunday, 21 September, as part of a National Trust initiative, more than 30 student volunteers worked alongside staff and National Trust representatives to plant over 10,000 snowdrop bulbs on campus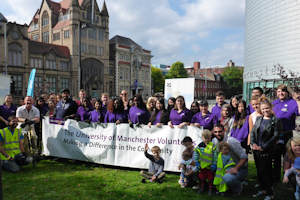 The students were all volunteers  from the Manchester Leadership Programme or part of the Manchester and Salford Officer Training Corps.
The day was part of Snowdrop City Week, marking the centenary of the First World War. Over 100,000 bulbs were planted during the week across the city to mark this important anniversary.
Snowdrops have been chosen as they are a symbol of peace and hope, and a link to the white war graves.
They are also an early source of nectar for bees which are a symbol of Manchester and so will hopefully help support the city to reverse the decline in bee population.
The snowdrops will flower in spring 2015, and every year from then on to create a lasting legacy.
Keep an eye out in February for a carpet of snowdrops on the grass between University Place and Williamson Building!
Further information