Oxford Road will remain closed until further notice
22 Sep 2014
The re-opening of Oxford Road has been postponed following the detection of additional voids under the carriageway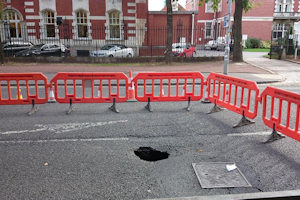 United Utilities has conducted a ground-penetrating radar survey which has detected additional voids under the carriageway and these are causing serious concern.
Manchester City Council will decide on a course of action once they have seen the survey and will keep the University informed. Watch out for further announcements on StaffNet News.
Information and advice
Until the road is fully open, staff and students are asked to allow extra time for car and bus journeys and to keep abreast of information and advice during the closure period:
Buses
Many buses are diverted due to the closure but some do continue to use Oxford Road.
Bus stop information is being constantly updated as well as website information so do look out for updates:
Student Communications have kindly created a useful webpage which provides the latest news:
This also includes a map showing:
147 bus
This route is unaffected by the closure but increased traffic may cause some delays.
Please use the new online bus tracker (2/3 minute delay) to support your journey:
Cycling
Cycling along on Oxford Road remains unaffected both ways, but traffic congestion has obviously increased on parallel routes and beyond.
Sustainable Travel
For detailed information on University schemes and initiatives for all types of travel, please visit:
Information to new and returning students
As mentioned above, the Student Communications webpage, including bus stop map and walking routes, is the best single source of information to pass on.
In addition, the Welcome planning group will erect signage at key bus stops along the route (RNCM; Trinity School, Manchester Science Park, Corner of Moss Lane East and Wilmslow Road). They are also planning to add informational signage at Owens Park main bus stop and place student Ask Me ambassadors at Owens Park bus stop and RNCM bus stop to advise and direct students.
For students interested in cycling, the new student cycling programme will be of interest: